The Elle TENS (Transcutaneous Electrical Nerve Stimulation) by Babycare is a versatile and easy-to-use TENS machine, offering maximum pain relief during labour and beyond. All of the settings are pre-set, so there is no guess work or fuss – just optimal pain relief when and where you need it!
TENS is a safe and effective means of combating pain during the process of childbirth. It works by sending comfortable, gentle pulses to the nerves through four electrode pads placed on the skin. It utilizes the Gate Theory of Pain Control by gently stimulating your sensory nerves to suppress or block the pain signal to the brain. When these pain signals are blocked, it becomes more difficult for the brain to register the sensation of pain (or it opts for the more pleasant pulsing sensation).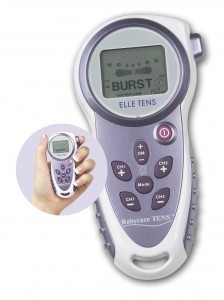 Endorphins (often referred to as the body's natural opiates) are produced naturally by the body to manage pain. High endorphin levels can make you feel alert, attentive, and even euphoric after birth, as you begin to get to know and care for your baby. In this early, postpartum period, endorphins and the hormone oxytocin are believed to play a role in strengthening the mother-infant relationship. TENS can promote the release of endorphins through a comfortable tapping sensation that results in pain relief even after the unit is turned off.
The Elle TENS has two main settings: burst and boost. During a space between labour contractions, the machine should be left on "burst". When a contraction begins, simply press the boost button on the side of the unit for a surge of extra power for pain relief. After the contraction ends, simply press the same button again to return back to the "burst" setting.
Included in your rental of the Elle TENS Unit:
Soft carrying pouch
2 leads + 1 spare
4 large self-adhesive electrodes
batteries + 1 spare
simple to use instructions
A Woman's Guide to Drug Free Pain Relief (book)
 Price $65
Book a TENS Rental
Why should I use a Babycare Elle TENS?
Babycare TENS make only the highest quality products known for their excellent design and ease of use. Babycare has an active medical device license with Health Canada for the Elle TENS, and has been shown to be effective for labour and afterward. The Elle TENS can help you to remain in control, stay alert, and considerably reduce drug intake. Most importantly, there are no known side effects for you or your baby.
Can my TENS be covered by insurance?
Often they can be, depending on your benefits plan. Some plans require a note from a care provider, and some do not. You do not have to be pregnant to have your TENS covered by insurance. Many people will be prescribed a TENS unit for back or shoulder pain, and even menstrual cramps.
Interested in bundling services? Shoot me a message and we can chat more!
Save
Save
Save